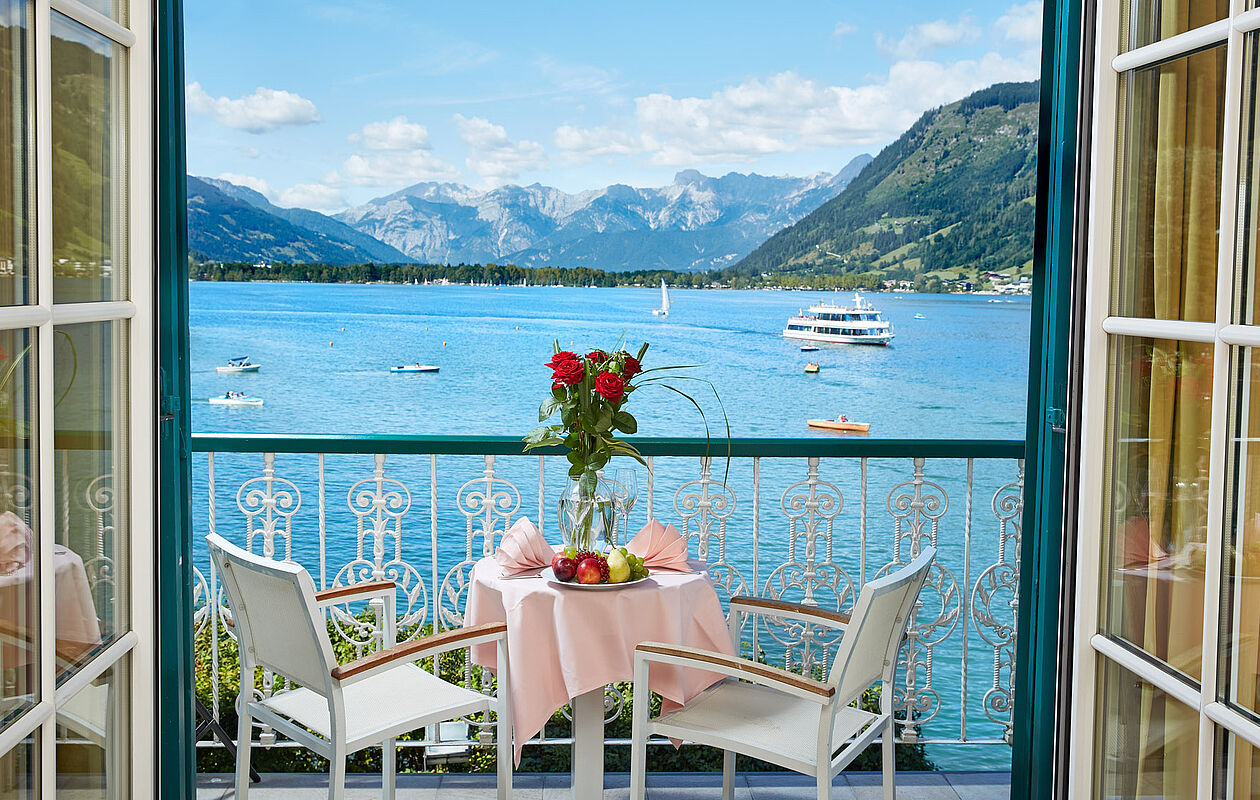 SCROLL
Instead of shaking hands, we will greet you at the GRAND HOTEL with a warm smile and look forward to welcoming you soon. At the GRAND HOTEL we have dealt intensively with our already very high standards of hygiene regulations and have successfully implemented all preventive measures prescribed by the federal government. The regulations were of course continuously adapted by our team. Even if a lot has changed in the last few months, the warmth and the usual hospitality at the GRAND HOTEL remain.
General arrival information for the summer 2021
From July 1st, a mask no longer has to be worn in the hotel.
The "Green Pass":
On arrival, we ask you to show us a valid negative COVID test result, a vaccination certificate or a confirmation of a COVID-19 illness (within the last 6 month).
The validity period:
self-tests with digital integration: valid for a maximum of 24 hours
antigen tests: valid for a maximum of 48 hours
PCR tests: valid for a maximum of 72 hours
Recovered persons: up to 6 months after the illness
Vaccinated persons: from 22 days after the first vaccination up to 9 month
In future, Austria will use the ECDC cardfor risk areas for the entry of guests:
green/orange: free entry
red: Entry only for tested, vaccinated or recovered persons
dark red: Entry only for tested, vaccinated or recovered persons plus quarantine (free testing after 5 days)
Entry from countries with a 14-day incidence below 500 (corresponds to a 7-day incidence of 250) that are not a virus mutation area will be possible without quarantine
Further information about RULES OF CONDUCT & HYGIENE REGULATIONS
Code of conduct on the mountain Schmittenhöhe for the summer 2021
Effective May 2021
Current cancellation fees for the summer season 2021
Much is uncertain in times like these. But we want you to feel safe. We have therefore eased our cancellation conditions for the summer holiday 2021.
Cancellation is free of charge up to 14 days prior to arrival. From 13 days to 8 days prior to arrival the cancellation fee is 50% of the travel price; within the last 7 days prior to arrival and in the event of early departure the cancellation fee is 90% of the travel price.
Refund warranty:
In the event of a border or hotel closure or a lockdown, you can also cancel at short notice, free of charge.
What happened if:
If you cannot take your well-deserved vacation because you are sick yourself, have tested positive for COVID or have to be quarantined because of a relative in the same household?
For this occasion we recommend the hotel cancellation insurance of the European Travel Insurance.
Safety measures at the GRAND HOTEL ZELL AM SEE
Despite all the precautions, we ask for your attention. Always adhere to the distance rules of at least 1 meter and only travel if you actually feel healthy. Our employees are also uncompromisingly instructed to only appear healthy at work.
At Check-In you will receive a thoroughly disinfected key. We ask for your understanding to keep the key during your stay and not to hand it in at the reception.
We have adjusted our cancellation policy to the exceptional situation. See point "Our special cancellation conditions"
Our employees received the best possible training from internal and external experts.
Several disinfection items in and around the hotel premises enable optimal hand hygiene for you.
Information signs about compliance with the hygiene regulations are placed in several places.
We ensure good ventilation of the interior.
Lobby, Lift, Toilets, Shop
All traffic routes are cleaned and disinfected systematically and at intervals (depending on frequency)
A safety glass at the reception also ensures your safety.
Safety distances are checked by the hotel employees.
Without exception, all items and devices (tablets, room keys, credit card terminals, loan items) that come into contact with our guests are cleaned and disinfected after EVERY use.
Brochures and information materials are not available at the reception as usual, but are given on request.
The handrail in the lift and lift buttons are disinfected regularly (depending on the frequency).
Please use the lifts individually, by room (or as family).
Please visit our shop only individually (or as family).
The number of children is coordinated with the caregivers so that compliance with the behavioural measures can be monitored and controlled. Please contact the reception.
All toys and equipment are cleaned and disinfected regularly.
All textile materials and soft toys have been removed.
Rooms will always be well ventilated.
Care is taken to ensure child-friendly hand hygiene.
Writing materials which you receive on the arrival may be kept.
On arrival you will receive a disinfected room key. We kindly ask you to keep your room key during your entire stay.
We continue to offer the suitcase and parking service. Our employees always pay attention to hand hygiene and the car is well ventilated after parking. The car key is returned after disinfection.
If you have symptoms of a Covid-19 disease, please call the reception immediately.
Please stay in your room. Our occupational physician will take good care of you.
We may ask you to pay contactless.
After each guest, the table linen is completely changed and chairs and armrests and all the utensils on the table as well as the menu and beverage cards are disinfected.
Breakfast buffet: Please use the disinfection column directly in front of the buffet before you help yourself.
Before moving into the room, it will be cleaned and disinfected. That was and is also apart from Corona standard.
Unfortunately, according to the current regulations, we are not allowed to place our fruit salute in the room. We would be happy to provide them on request. Please contact a reception or restaurant employee.
For your own protection, ensure good ventilation in the room and open the bed linen in the morning so that the textiles can dry well.
Let our housekeepers change wet towels.
Spa, Wellness, Sauna, Fitness
In the GRANDSPA we provide you with several disinfection options.
We are happy to inform you about the procedures and use of the tea bar, lobby and sauna area.
You are welcome to operate tea and water dispensers independently. Please use the disinfection option in advance.
Snacks such as nuts and dried fruits will be ready in individual portions (foiled).
Fresh fruits are available at the spa reception.
We will be happy to provide you with our spa brochure. You will receive a personal copy.
We would be happy to advise you on possible and sensible treatments and explain the taken protective measures.
Of course you can continue to test our products from Pure Altitude and St Barth.
Please contact the spa reception for this.
The loungers in the relaxation room are aligned at a distance of 1 m, we ask you not to move them.
The recommended safety distance also applies in the entire swimming pool and fitness area.
For your and our safety, our employees regularly carry out disinfection rounds in the entire spa area.