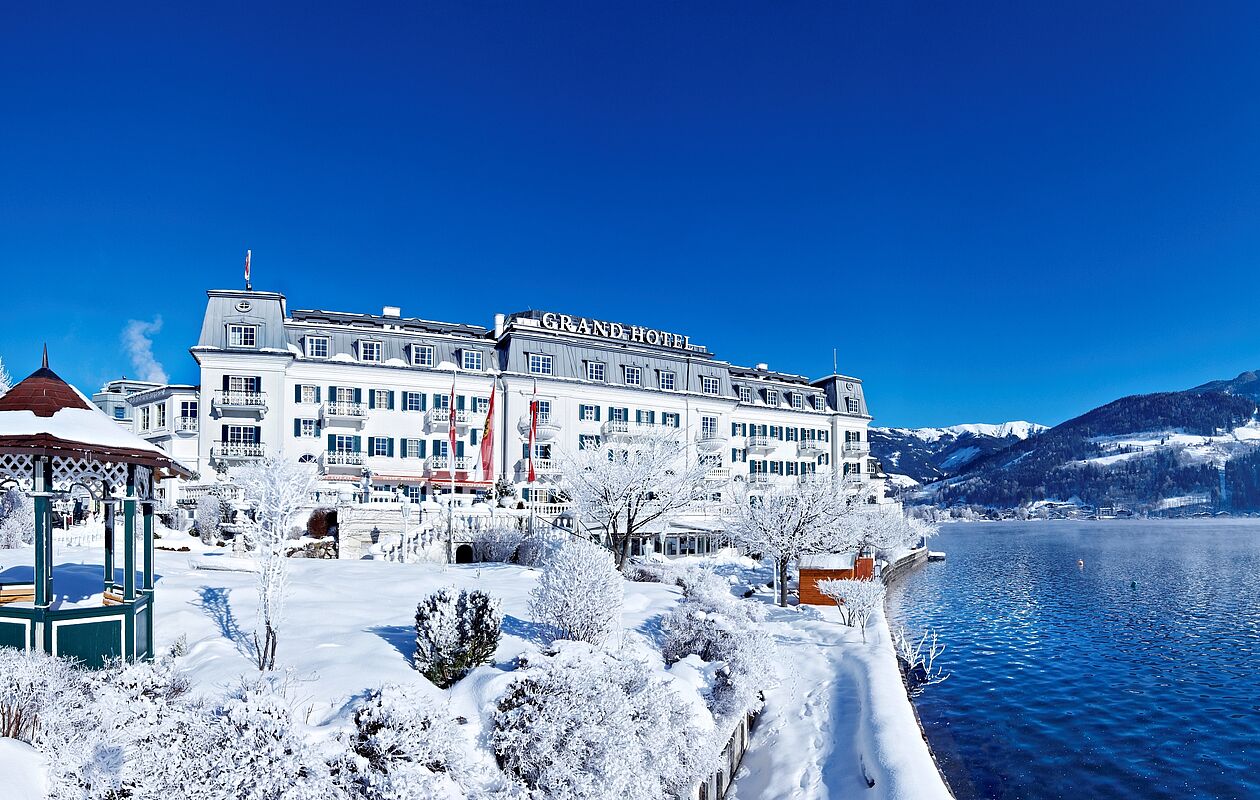 SCROLL
The Grand Hotel

Zell am See
GRAND HOTEL ZELL AM SEE is situated in a unique location on a private peninsula directly at the shore of Lake Zell. The 4-star-superior GRAND HOTEL ZELL AM SEE affords you Austrian congeniality, alpine coziness, a breeze of imperial luxury and romance, a tinge of nostalgia combined with responsive service at 4**** superior level.
Look forward to the generous spa and wellness programme of the GRANDSPA right at the top of the wellness wing with fantastic views and the family-friendly Classic Spa with pool and direct access to the lake. Live and dream in the traditional and lovingly furnished rooms and suites. Enjoy the special location of our house directly at the blue shimmering Lake Zell!
Your general manager
Bettina Mayerhofer
General arrival information winter 2021/22 (State 17.11.2021 / 01:04pm)
The "Green Pass":
On arrival, we ask you to show a vaccination certificate or a confirmation of a COVID-19 illness (within the last 6 month).
In addition, an FFP-2 mask must be worn in the hotel.
Approved vaccines for a possible check-in at the hotel:

- BioNtech/Pfizer: 2 Dose

- AstraZeneca: 2 Dose

- Johnson & Johnson: 1 Dose

- Moderna: 2 Dose
The validity period:
Children and adolescents: Children up to the age of 12 are exempt from the G-proof requirement and therefore do not have to present a test result. For children and adolescents between 13 and 15 years of age (school age) the following applies: The school's "ninja pass" is equivalent to the 2-G certificate and is therefore also valid as an entry certificate for the restaurant, cinema or cable car. After completing the ninth year of school, young people must also have a 2-G certificate.
Recovered persons: up to 6 months after the illness
Vaccinated persons: from 22 days after the first vaccination up to 9 month
You can find more information here
2-G rule for the purchase of ski passes:
Please note that the 2-G rule (vaccinated, recovered or tested) applies for the purchase of ski tickets. This applies not only to adults but also to children from the age of 12 years. without a 2-G proof the ski ticket is not valid.
Cancellation policy winter 2021/2022 (Update: 17. November / 01.04pm)
Cancellation free of charge until 28 days prior to arrival
Cancellation fee from 28 days prior to arrival 40%
Cancellation fee till 14 days prior to arrival 70%
Cancellation fee till 7 days prior to arrival 90%
In case of no show we charge 90% cancellation fee
Excluded from these cancellation conditions is the New Years Eve week 26. December 2021 till 02. January 2022

In the event of a hotel closure or a lockdown, you can also cancel at short notice, free of charge.

If you cannot take your well-deserved vacation because you are sick yourself, have tested positive for COVID or have to be quarantined because of a relative in the same household?
For this occasion we recommend the hotel cancellation insurance of the European Travel Insurance.