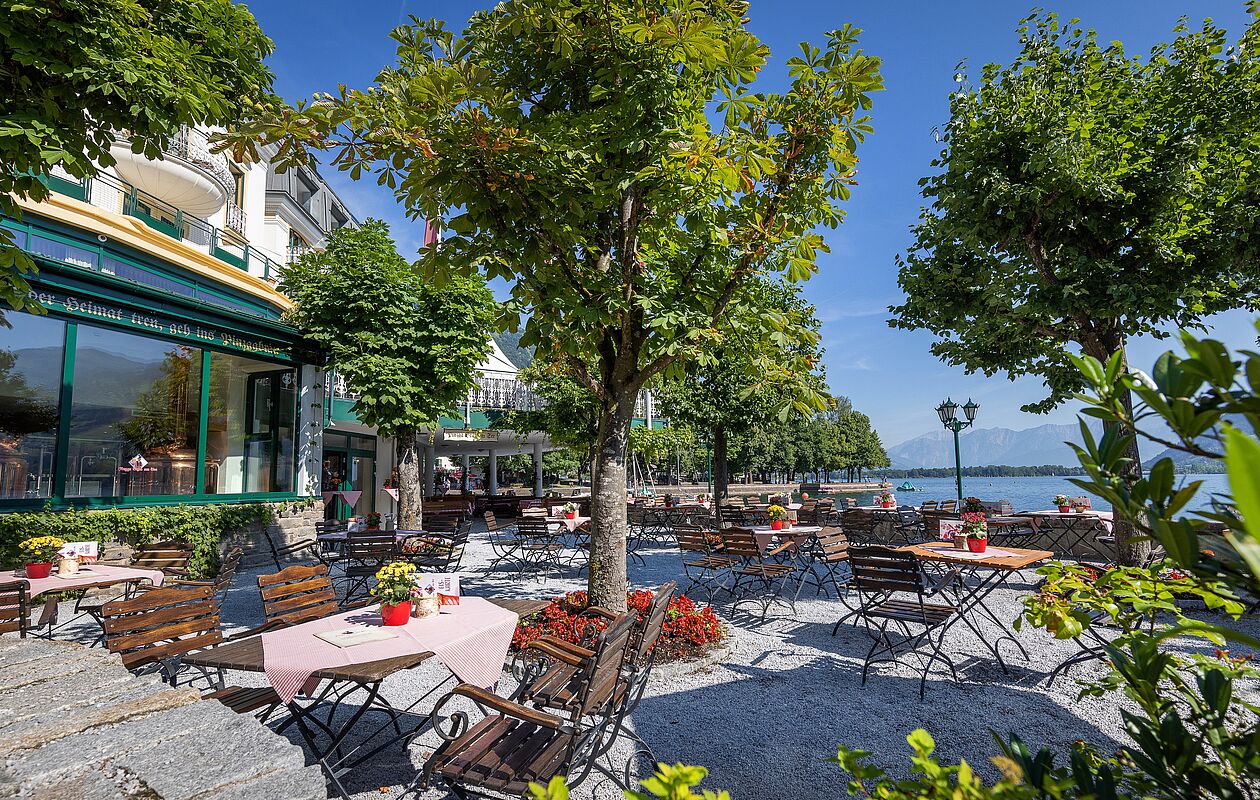 SCROLL
Pinzga Bräu

Down-to-earth food
Dear Pinzga Bräu friends, we are looking forward to a wonderful summer in our beer garden.
Guided tours and tastings with our master brewer and beer sommelier are possible at any time: Tel. 06542 788. Cheers!
Brewery "Pinzga Bräu am See"
Zell am See has had a new in-house brewery since autumn 2020. As soon as you enter the cozy chestnut guest garden, the brewery is impressively staged by the installation in the winter garden. In our "Pinzga Bräu am See", the rustic brewery restaurant of the GRAND HOTEL, long known for its traditional Austrian cuisine, there has been a 5hl brewery with a state-of-the-art brewery from the Bavarian brewing capital of Bamberg since 2020. In the Pinzga Bräu am See you can enjoy three things: the picturesque Lake Zell, Austrian delicacies on the plate and a wonderfully fresh Pinzgauer beer in a clay mug! Bottom up!
Tasty quality beer
In the production of our unfiltered beer, we attach particular importance to the use of local raw materials, such as hops from the Mühlviertel and barley malt from Grieskirchen. The classic varieties are joined by seasonal brews, such as a strong Christmas bock, an amber autumn beer or a hoppy summer light beer.
In wintertime, we invite our guests, once a week to the traditional Pinzgauer evening in the restaurant Pinzga Bräu. As part of the half-board, our guests can enjoy hearty dishes from the region and experience traditional live folk music.
In summer, the "Pinzga Bräu am See" with its cosy outdoor dining area is the perfect place to enjoy hearty delicacies. The menu contains not only traditional roast pork with dumplings and pickled cabbage but also many other dishes to enjoy over a glass of beer. The pastry chefs in the neighbouring GRAND HOTEL bake two dozen types of sweet indulgences that you can enjoy in the restaurant and lakeside outdoor dining area.
Our Pinzga Bräu is open from 11:00 am to 08:00 pm for you. If the weather is really bad, we reserve the right to close the beer garden. Cheers!