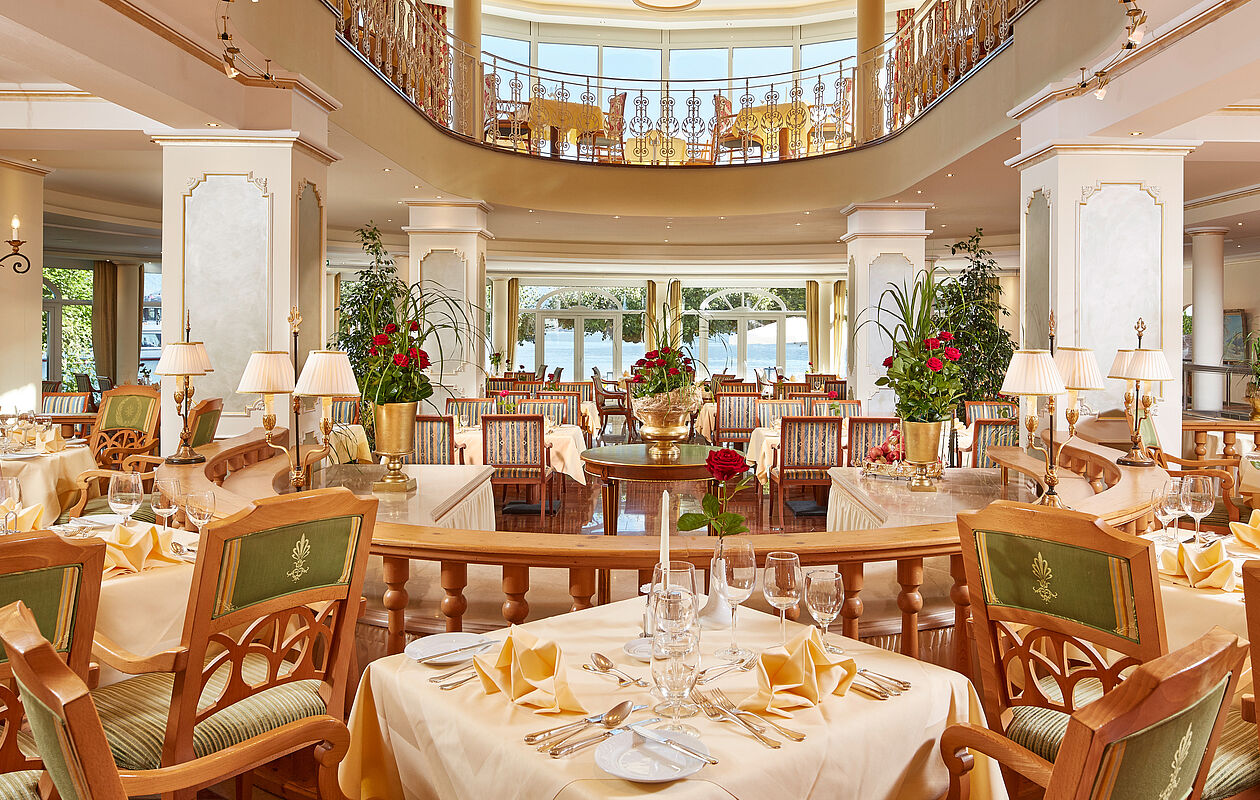 SCROLL
Restaurants

Culinary delights
Allow yourself to be pampered with fine culinary creations in the "Kaisersaal" and the "Belvedere", our elegant restaurants. Whether for weddings, birthdays, baptism, your Christmas party or simply a cozy evening with your friends - we offer the perfect setting for any occasion.
Regional freshness & tradition
Our Chef de Cuisine, Bernd Bereuter, and his team, create inspiring regional dishes. Guests with half board are pampered with a choice of three ingenious dinner menus (or buffet): the Classic GRAND HOTEL kitchen and the regional Austrian cuisine, the health cuisine as well as the vegetarian cuisine
Your culinary enjoyment is encompassed by the restaurants with their beautiful lake views - the "Restaurant Kaisersaal" as well as the "Restaurant Belvedere", with its snuggeries "Kaiserstüberl" and "Zirbenstube".
Eating out in Zell am See
The GRAND HOTEL restaurants in Zell am See are a very special place for the experience "Eating out in Zell am See".

Enjoy unforgettable moments ... Eating out in Zell am See & celebrating parties - this is what the GRAND HOTEL with its unique ambience is known for. Whether wedding, birthday party, baptism, confirmation, parties with friends, Christmas party ... with us you are just right for any occasion.
We offer the perfect setting for any occasion with culinary highlights at the highest level. If you are looking for a special restaurant in Zell am See, book a table at our lakeside restaurants for breakfast, lunch or dinner.
The Restaurant Belvedere, in the hotel's imperial building, was opened in December 2015. The former Panorama Restaurant has been home to the new Casino Zell am See since 1st January 2016. In both summer and winter, the restaurant offers wonderful lake & mountain views with a breathtaking panorama. In summer, the restaurant's imperial terrace invites you to enjoy an idyllic breakfast between the mountains and the lake. Yet romantics can also enjoy the calm and picturesque backdrop of the terrace over dinner.
In the afternoon, you can feast in the luxury of the Imperial Age in the Grand Café am See. Enjoy the unique panorama on the generous terrace, directly in front of Lake Zell. Experience our imperial coffee time in an elegant and nostalgic atmosphere with freshly-ground coffee and exquisite varieties of strudels and cakes from our own patisserie. Indulge in the particular imperial flair of the Grand Café am See. Accentuated by gentle piano music, your experiences here will become unique moments that will linger in the memory.