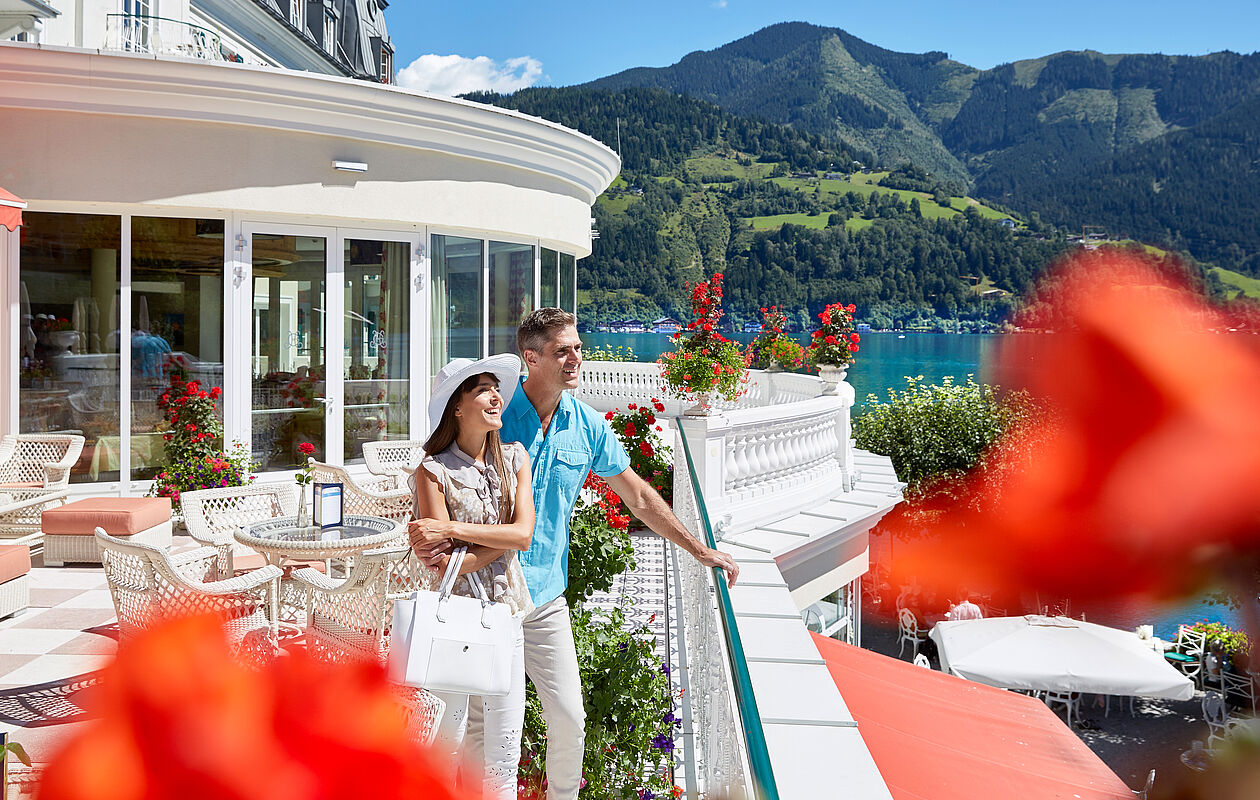 SCROLL
Allow yourself to be pampered with fine culinary creations.
07:00 a.m. till 10:30 a.m. - Breakfast
12:00 a.m. till 02:30 p.m. - Lunch
06:30 p.m. till 09:00 p.m. - Dinner
Daily from 10:00 a.m. till 06:00 p.m. the "Pinzga Bräu am See" with its cosy outdoor dining area is the perfect place to enjoy hearty delicacies and traditional cuisine. The pastry chefs in the neighbouring GRAND HOTEL bake two dozen types of sweet indulgences that you can enjoy in the restaurant and lakeside outdoor dining area.
Every Saturday & Sunday you can enjoy an early-morning drink with vibrant live folk musik at Hundertwasserplatz in the GRAND HOTEL ZELL AM SEE. Experience the delight of informal company and authentic encounters with good, plain fare right next to beautiful Lake Zell.
Our Health Cuisine from the GRAND HOTEL
We offer you a version of flavour orientated Health Cuisine from the GRAND HOTEL ZELL AM SEE. With those specialities we will try to take you to another level of eating. How that may look and taste we will explain further down.
If you want to say good bye to to much meat, sugar, salt and all kinds of fat, then you may try the new HEALTH CUISINE because it is …
light to digest, simpler and low on calories, i.e.: no heavy cream sauces and soups are served
the base product will give the taste, i.e.: fish will be fish, meat will be meat w/o any sauces
Meat will be used economically as a speciality and vegetables are not just used a side dish, i.e.: w/o the exorbitant consumption of meat (especially red meat) creating a fantastic dish
All oils and fat used will be from vegetables, i.e.: instead of butter we will use olive oil and we will not fry any kind of food
Sugar will be used as herbal essence and not as an esculent, i.e.: we will offer other dishes as dessert
As far as it may be possible we will use biological products of the region, and ingredients according to the season, i.e.: whatever the market on vegetables and fruits offers (no strawberries in the winter).
…if you like those kind of food preparation and consideration to the nature, then you should try our HEALTH CUISINE.
Candle light Dinner in our Pavillon
Surprise your sweetheart or your loved one. For special evenings in the sign of togetherness we spoil you in the evening with a romantic candle light dinner in our pavilion at the lake.
At € 150,00 per person
For further information please ask at the reception.
Candle light Dinner in our wine cellar
Enjoy magical moments of togetherness in a romantic atmosphere in our unique wine cellar.
For further information please ask at the reception.
Our candle light dinner in our vine cellar
Our wine recommendation for July
2016 Grau- & Weißburgunder "Ried Spiegel"
Vinery Bründlmayer
Langenlois – Kamptal
EUR 33,00
2014 Pinot Noir Goldberg
Vinery Toni Hartl
Reisenberg – Thermenregion
EUR 36,00
Visit us in our Imperial bar, on the lake bar or on the lake bar terrace and enjoy the special mix of Flo´s Cocktail with fresh, local ingredients.