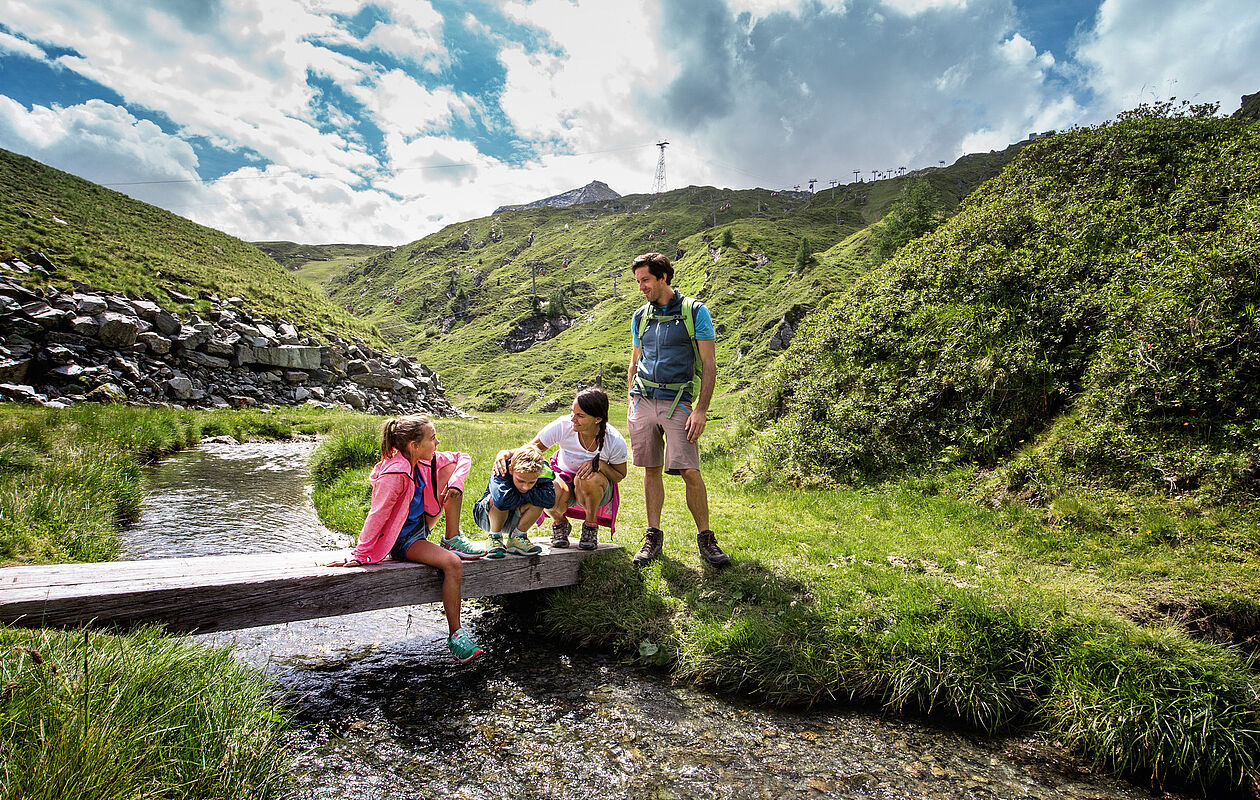 SCROLL
Summer Holiday

at Lake Zell
Surrounded by the imposing mountains, Lake Zell enjoys a sense of natural tranquility between the massive mountains over 3,000 meters. With its rich blueness and crystal-clear water with drinking water quality, it is a unique source of energy in the middle of the mountain town of Zell am See.
Water is life and Zell am See is alive! The water in the four and a half square kilometre Lake Zell is good enough to drink and offers all kinds of bathing fun – all against a picturesque alpine backdrop. You can swim, dive and catch fish in the turquoise coloured lake glistening in the sunshine! The lake also plays host to sailors, windsurfers, boats, ducks, swans, and people relaxing on their air mattresses.
In alpine tranquillity
Water sports on Lake Zell
Countless sporting activities abound both on and around the royal blue lake. Try your hand at the trend sport of stand-up paddling, or rent a boat for an exclusive romantic boat trip with your loved one. Take advantage of the gusts of wind and sail across Lake Zell or rent a windsurf board and slide across the water against the imposing mountain backdrop.
Circular trip on Lake Zell
Panorama circular trips on the lake
Feel for yourself the power of nature and the picturesque scenery of the mountain town of Zell am See by taking a trip on Lake Zell. The spacious sundeck lures passengers with its fabulous view of the peak of the Großglockner, the shining peak of the Kitzsteinhorn glacier and the Schmittenhöhe, Zell´s very own mountain. Your well-being on board is also guaranteed. Choose from a selection of refreshing drinks, fine wines, coffee specialities and regional delicacies from the galley.
Breathe in the mountain air
Cycling & mountain biking
The Pinzgau region of Salzburg is known throughout Austria as an outstanding place to go cycling and offers tours for the whole family. You can work up a sweat on the round 500 kilometres of cycle paths through small towns and villages, on mountains or along riverbanks – or simply lean back against an apple tree and enjoy a relaxing picnic. You can rent e-bikes (against a fee) as well as mountain bikes and city bikes directly from the GRAND HOTEL ZELL AM SEE.
Free bike rental for children and adults
Free rental of children´s helmets and children´s bike seats
E-Bike rental against a fee
Locked bike cellar
Cyclist lunch package for your excursion
Free regional map of cycle trails
Co-operation with a professional bike shop if repairs are needed
In-house laundry service
Hiking holiday in Zell am See-Kaprun
You would struggle to find anywhere else a panorama similar to the one you experience during mountain walks on Kitzsteinhorn, Schmittenhöhe or Maiskogel. Thirty 3,000 metre peaks all around and breath-taking views. Let the 83 hiking routes guide you leisurely or over hill and dale through the Zell am See-Kaprun region. Experienced guides can accompany you and teach you about the flora and fauna.
Outdoor sport
Nordic Walking
Developed around ten years ago as a form of summer training for cross-country athletes, Nordic Walking today keeps both young and old in good shape. How wonderful that you can also enjoy this effective sport on hiking paths. Bodily fitness is maximised by spiritual nourishment. Lake Zell is ideally situated to "athletes with sticks".
Beautiful views – great tees
Golf holiday in Zell am See-Kaprun
The mountain town of Zell am See has two 18-hole championship courses that offer fascinating places to play in the biggest and most beautiful golf clubs in the alpine region.
The Golf Club Zell am See - Kaprun is only few minutes away from the GRAND HOTEL ZELL AM SEE.
Golf in the alpine region has a special appeal. The "Golf Alpin Card" is particularly attractive for guests who like to play golf. This card enables you to choose between 28 Golf Alpin partner clubs in the provinces of Salzburg and Tyrol.
The GRAND HOTEL ZELL AM SEE has been a member of the GOLF in AUSTRIA quality group for many years!
In alpine tranquillity
Your GRAND-Golf benefits
• 30% discount on green fees at the Golf Club Zell am See
• Free VIP shuttle service to the Golf Club Zell am See
• Reservation of tee times and individual golf lessons
• A golfer's lunch box for your round
• A small golf gift in your room
• Storage for your golf bags in the hotel
Exceptional experiences for young and old
Excursion destination
There are numerous attractions and fantastic destinations waiting to be admired near Zell am See. For example, Europe´s largest waterfalls, the Krimmler waterfalls, with their healing powers. From May to October, these can be reached by the Pinzgau local train from Zell am See station. Or the Grossglockner High Alpine Road, the most famous alpine road in the world. As it snakes its way across 48 kilometres and 36 hair-pin bends through the mountain world of the High Tauer, it passes by numerous sights on wayside. It´s also worth making a trip to the Weisssee glacier world. Here you can enjoy the journey through beautiful scenery, including a cable car ride, as well as fantastic hiking paths and idyllic alpine views at 2.315 metres above sea level.
Click here to access the summer programme