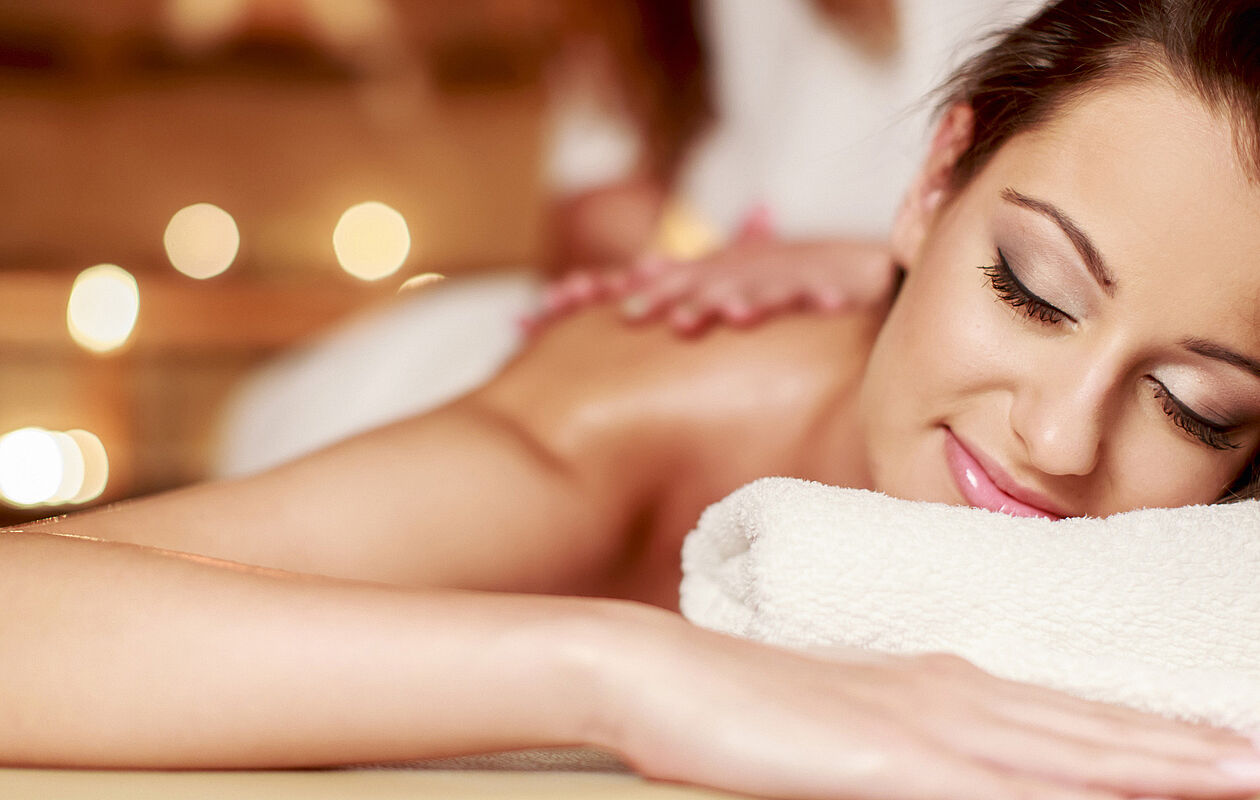 SCROLL
Our spa is located in glorious surroundings on the 4th, 5th floors of the Hotel's wellness wing. Surrounded by Lake Zell and the local mountains, you draw new energy and vitality for inner balance and equilibrium.
At the GRANDSPA you will find selected wellness treatments from around the world: from ancient pampering rituals to the perfect medically-based anti-aging programme and modern health and body programmes.
Relax in our tastefully furnished wellness & sauna world with a Finnish sauna, herbal sauna, tepidarium, brine steam room, Turkish steam bath, infrared cabin, large relaxation rooms, and a terrace with wonderful lake views.
Our spa is open seven days a week, from 9am - 7.30 pm with its qualified team. Come by at your convenience for a consultation and enjoy dreamlike moments and views!

Spa Boutique
Small gifts maintain friendship
Whether it's for yourself or for your loved ones, you're guaranteed to find the right gift at our GRANDSPA Boutique. We have exclusive products from Cellcosmet & Cellmen, Ligne St Barth, Pure Altitude and Ägyptos. We are happy to issue gift vouchers for you.
Treatments
Dive into a world of relaxation
Whether it's traditional massages, an anti-aging programme or modern health and body programmes: at the GRANDSPA you will find selected wellness treatments from around the world. Our GRANSDPA team is available to book appointments for you and offer qualified advice.
Our treatment suggestions - book in advance and save 10%
Our GRANDSPA Signature treatment

Our relaxing and nurturing feel-good experience from head to toe – created
just for you.
GRAND alpine trio
Start with the wonderful snow crystal whole body exfoliation. Then immerse
yourself in a delicately melting cream wrap with alpine plant extracts to leave
your skin feeling soft and smooth.
While the wrap is working, you can enjoy a jade stone massage for your head
and face before being pampered with a back, shoulder and neck massage.
Finally, relax and enjoy a delicious cup of herbal tea on a specially reserved
warm lounger in the tepidarium while taking in the fantastic view of Lake Zell
and the surrounding mountains.
75 minutes of pampering EUR 125.-
Sports and sauna program in the winter season 2022/23
(Days may vary)

Monday
Tuesday
Wednesday
Thursday
Friday
Saturday
Sunday
Sport 10.30 am
CrossFit Training or
Kettlebell Training
Pilates or
Yoga
Back fitness or
Aqua Gym
H.I.I.T. or
Cardio-Circuit
Abdomen-legs-buttocks or
Balance Training
Tabata Training
or Fasciatraining
Core Training or
Winter Nordic Walking
GRANDSPA Sauna 05.00 pm
Menthol Firecracker Sauna Infusion
Alpine Pine Sauna Infusion
Singing bowl infusion
GRANDSPA steam bath 05.00 pm
Cherry Sugar Scrub
Rasul Mud Bath Rubbing
Mint Salt Scrub
Honey rubbing
Explanation sports program
| | |
| --- | --- |
| Crossfit | Functional strength and endurance training for your whole body |
| Pilates | Holistic training in which movement and your breathing are harmonized |
| Back Fit | Targeted training for a strong back |
| H.I.I.T. | High-intensity interval training, high-intensity interval training for effective fat burning and muscle building |
| Abdomen-legs-buttocks | Training with special focus on abdomen-legs-buttocks area for a beautifully shaped figure |
| Tabata Training | Intensive interval training for your cardiovascular system as well as increased fat burning |
| Core & Balance Training | Targeted training of the core area of the body to improve your body stability and coordination |
| Aqua Gym | Effective full-body movement training in the water for your fitness |
| Cardio circuit training | A workout for more strength & endurance |
| Kettle Bell Training | Strength training to improve your strength endurance and body awareness |
| Yoga | Full body exercises for your physical and mental well-being |
| Balance Training | Training with the Balance Pad to improve your coordination and balance |
| Fascia Training | Exercises with the fascia roller improve your mobility and support pain |
| Winter Nordic Walking | Your effective whole body muscle training along Lake Zell |
All sports program points are suitable for beginners and advanced - meeting point hotel reception
| | |
| --- | --- |
| Cherry Sugar Scrub | A vitamin-rich and fruity experience for radiantly beautiful skin |
| Infusion Menthol firecracker | Intensive infusion with menthol crystals to clean your airways and for an alert mind |
| Rasul Mud Bath Rubbing | Rasul Mud Bath Rubbing |
| Alpine Pine | Soothing sauna infusion with the power of alpine stone pine |
| Mint Salt Scrub | Makes a clear head and radiantly beautiful skin |
| Honey rubbing | Opens your pores and is the ideal moisturizing skin treatment for your delicate, smoothed complexion afterwards |
| Singing Bowl Infusion | Relaxing sauna infusion enveloped in singing bowl vibrations for even more intense sweating |
Caribic classic
The treatment includes cleansing with Frangipani
blossom milk, melon tonic, skin analysis, a fruity papaya
exfoliation, brief cleansing and a refreshing mask
made from pineapple or passion fruit. To round off the
treatment, we'll pamper you with nourishing mango
lotion and serum.
50 minutes of pampering EUR 89,-
The sauna world in the GRANDSPA wellness area
Spa Lounge
Above the roofs of Zell am See
Experience the extraordinary atmosphere of our extensive Spa Lounge which offers beautiful views of the Zell am See lake and a feeling of space and freedom. Our GRANDSPA reception staff will be glad to give you advice and establish an individual treatment plan to meet your wishes.
Opening hours: daily from 9am to 7.30pm.
You can also give us a call at +43 (0) 6542 788 300