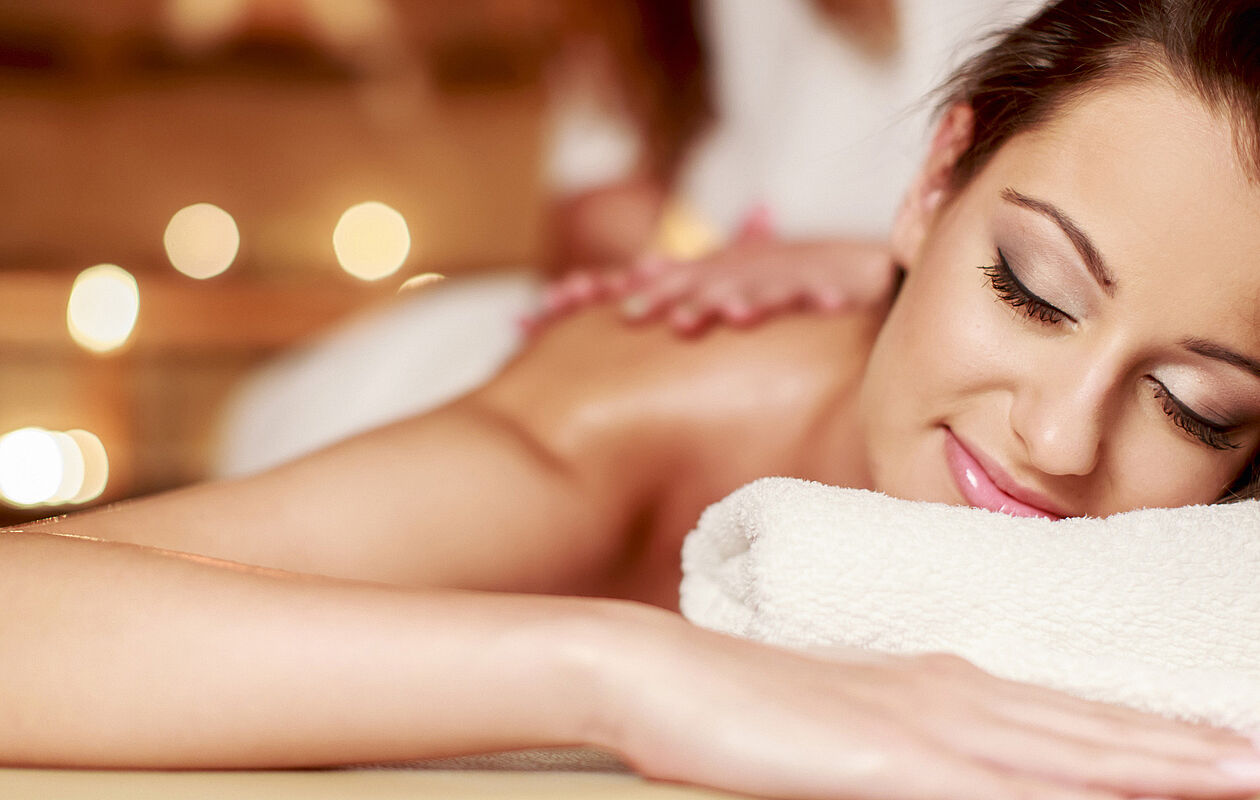 SCROLL
Our spa is located in glorious surroundings on the 4th, 5th floors of the Hotel's wellness wing. Surrounded by Lake Zell and the local mountains, you draw new energy and vitality for inner balance and equilibrium.
At the GRANDSPA you will find selected wellness treatments from around the world: from ancient pampering rituals to the perfect medically-based anti-aging programme and modern health and body programmes.
Relax in our tastefully furnished wellness & sauna world with a Finnish sauna, herbal sauna, tepidarium, brine steam room, Turkish steam bath, infrared cabin, large relaxation rooms, and a terrace with wonderful lake views.
Our spa is open seven days a week, from 9am - 7.30 pm with its qualified team. Come by at your convenience for a consultation and enjoy dreamlike moments and views!

Spa Boutique
Small gifts maintain friendship
Whether it's for yourself or for your loved ones, you're guaranteed to find the right gift at our GRANDSPA Boutique. We have exclusive products from Biocosmetics von MARíAS® from Salzburg, Cellcosmet & Cellmen, Ligne St Barth and Natur Pro - natural cosmetics. We are happy to issue gift vouchers for you.
Treatments
Dive into a world of relaxation
Whether it's traditional massages, an anti-aging programme or modern health and body programmes: at the GRANDSPA you will find selected wellness treatments from around the world. Our GRANSDPA team is available to book appointments for you and offer qualified advice.
Our treatment suggestions - book in advance and save 10%
Rose Dream facial treatment
The scent of a rose… like a smile from nature…
leaving a subtle fragrance.
Classic treatment for mature skin and anyone looking for luxury. With a high content of vitamins, fruit acids, minerals, and trace elements that stimulate skin metabolism and protect against premature skin aging. Cleansing, exfoliation, toner, rose mask, and massage, including final care.
50 minutes of pampering EUR 89.-
| | |
| --- | --- |
| Cherry Sugar Scrub | A vitamin-rich and fruity experience for radiantly beautiful skin |
| Infusion Menthol firecracker | Intensive infusion with menthol crystals to clean your airways and for an alert mind |
| Rasul Mud Bath Rubbing | Rasul Mud Bath Rubbing |
| Alpine Pine | Soothing sauna infusion with the power of alpine stone pine |
| Mint Salt Scrub | Makes a clear head and radiantly beautiful skin |
| Honey rubbing | Opens your pores and is the ideal moisturizing skin treatment for your delicate, smoothed complexion afterwards |
| Singing Bowl Infusion | Relaxing sauna infusion enveloped in singing bowl vibrations for even more intense sweating |
Caribic classic
The treatment includes cleansing with Frangipani
blossom milk, melon tonic, skin analysis, a fruity papaya
exfoliation, brief cleansing and a refreshing mask
made from pineapple or passion fruit. To round off the
treatment, we'll pamper you with nourishing mango
lotion and serum.
50 minutes of pampering EUR 89,-
The sauna world in the GRANDSPA wellness area
Spa Lounge
Above the roofs of Zell am See
Experience the extraordinary atmosphere of our extensive Spa Lounge which offers beautiful views of the Zell am See lake and a feeling of space and freedom. Our GRANDSPA reception staff will be glad to give you advice and establish an individual treatment plan to meet your wishes.
Opening hours: daily from 9am to 7.30pm.
You can also give us a call at +43 (0) 6542 788 300
The Pieper Biocosmetics Company does not have its roots planted only in a business idea, but in a way of life: following the desire for closeness to nature and an authentic way of life. The highest standards of quality and effectiveness of its products, combined with a responsible approach to nature and its resources, has been an essential
feature of MARíAS® Salzburg, a brand of the Pieper Biocosmetics Company, for more than 30 years. "The combination of natural raw materials such as
plant oils, floral waters, fresh Aloe Vera juice, shea butter, beeswax, clay, and essential oils combined with highly effective substances such as double hyaluronic acid, phytosterols, and vitamins, result in products of the highest quality."
Nature is the best cosmetics laboratory.
Selected natural ingredients, the highest quality standards and the knowledge of the Caribbean Arawak tribe make the St Barth products another highlight in the world of international cosmetics.
The secret of eternal youthful radiance! Cellcosmet and Cellmen are the first cosmetics to apply the cellular therapy principle with the highly effective active biointegral cells to the skin. This new generation of skin care products protect and moisturise the skin with special active ingredients, and actively promote cell regeneration.